Dibea D18 Cordless Vacuum Cleaner with Motorized Brush
---
Tax included.
Shipping
calculated at checkout.
Features:
● Cordless with ergonomic handle design, you can clean everywhere without tangling
● Two-speed control for efficient and thorough cleaning on different occasions
● The wide floor brush with lighting LED lights can be flatly placed and can turn corners, flexible, practical and easy to operate
● The floor brush can sweep under the furniture above 8cm, the cleaning depth can reach 90cm
● Stainless steel wire mesh with fine filtering function, convenient for daily use
● Hand washing filter cotton design, durable, can be repeated cleaning
● Interchangeable roller brush design, hard ground soft wool roller brush, and carpet roller brush can be changed to meet different needs
● The 2-in-1 function of the soft roller brush, which can clean the hard ground as well as the short hair carpet
● Multistage cyclone separation system, silent large wheel design, providing the more efficient cleaning effect
● With hanging rack design, convenient for the daily storage
● The power indicator light bar design makes you see the power data clearly, more practical
● Large capacity dust bucket design with multiple accessories can meet different needs
● Suitable for cleaning on hardwood, carpet, tile floors, car, bed, etc.
● The motorized brush suitable for cleaning on carpet, bed and not damage the fabric, easy to kill mites and bacteria without harming the body health
Parameter:
Floor brush material: ABS
Extension tube material: aluminum
Main machine rated power: 120W
Main machine working voltage: 22.2V
Main machine charging voltage: 26V
Battery: 2200mAh built-in lithium-ion battery
Working time: 45 minutes (long-term mode), 25 minutes (large suction mode)
Charging time: 4 - 5 hours
Dust tank capacity: 550ml
Suction: 4000 Pa (long-term mode), 9000 Pa (large suction mode)
Noise: 75dB
Motor type: brush DC motor
Applicable area: 120 square meters
Use way: dry use
Filtering mode: multi-stage cyclone and handwashing high-efficiency filter cotton
Motorized brush power: 10W
Motorized brush voltage: 22.2V
Motorized brush motor speed: 2000 rpm
Motorized brush size: 15 x 15 x 5cm
Upright vacuum cleaner size: 104 x 24 x 21cm
Tips:
● This product is not applicable to shag carpet and thicker carpet
Package Weight: 3.517 kg
Package size (L x W x H): 69.00 x 21.50 x 17.50 cm / 27.17 x 8.46 x 6.89 inches
Package Contents: 1 x Metal Tube, 1 x Motorized Brush, 1 x Floor Brush, 1 x Long Handle Suction, 1 x Brush, 1 x Rack, 1 x Bag of Accessories, 1 x Charger, 1 x Main Machine, 1 x English User Manual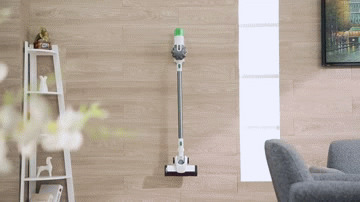 ", "name": "Dibea D18 Cordless Vacuum Cleaner with Motorized Brush", "productID":"4339925418061", "image":"products/20190114114920_60193.jpg ", "offers": [{ "@type": "Offer","price": "220.99", "priceCurrency": "USD","itemCondition": "http://schema.org/NewCondition", "url": "https://giftcardscentral.ca/products/dibea-d18-cordless-vacuum-cleaner-with-motorized-brush", "image": "products/20190114114920_60193.jpg", "sku": "","mpn": "","availability": "https://schema.org/InStock" }] }